Today's guest post is from Beyond Your Blog!
Susan Maccarelli is the creator of Beyond Your Blog, a resource site focused on helping bloggers submit their writing to websites and anthologies seeking contributors.  Beyond Your Blog offers tips and tricks for submitting writing as well as submission opportunities and a weekly podcast interview with an editor sharing tips for getting published on their site.  Join our Facebook Group, Beyond Your Bloggers, to get the scoop on submissions from your fellow bloggers and share your featured posts. Follow BYB on Facebook, Twitter and Pinterest.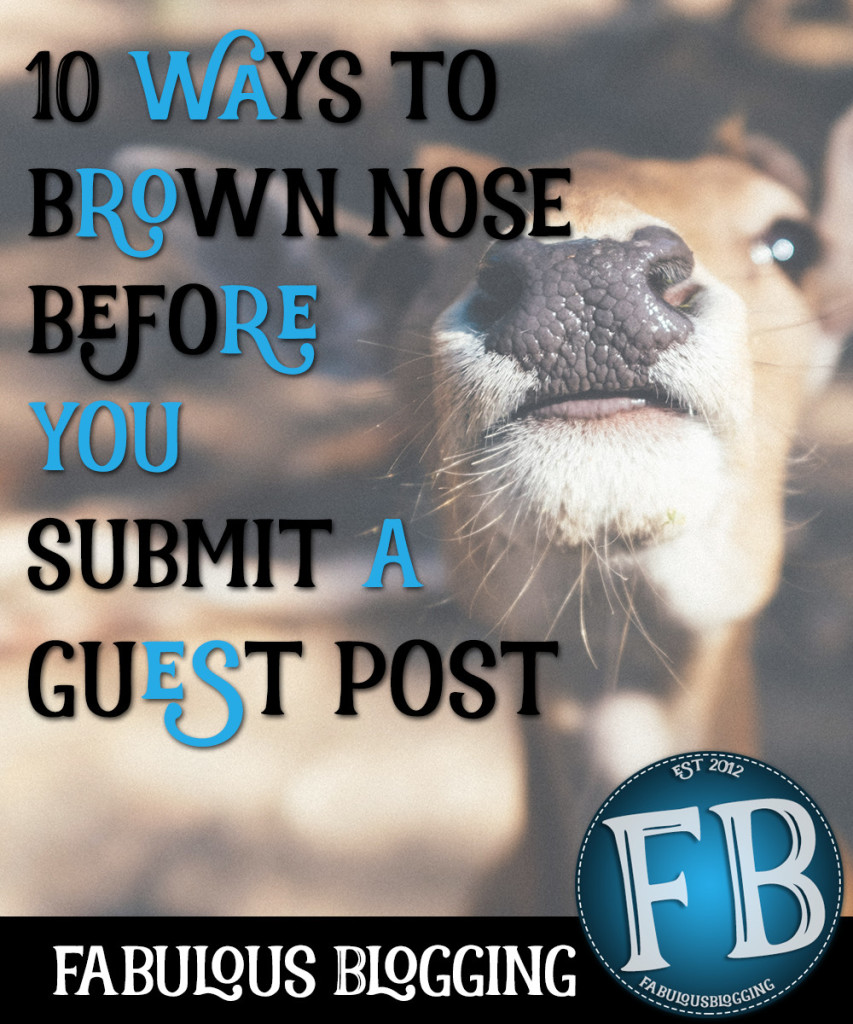 ---
Maybe brown nosing isn't the best description, but when you're submitting a guest post to a site for the first time, it's a good idea to make yourself known — in a good way — so you're not submitting cold. Here are a few ways to do that without sending annoying suck up emails, 'accidentally' running into editors at blogging conferences, or doing other submission-related stalking.
Social Media Following – I know editors who check to see if a writer is following them on social media before even reading a submission.  There is no need to join 6 new social media platforms, but at least follow the site on one or two of your favorite social media platforms, or wherever they seem to be the most active.
Subscribing To Their Newsletter – For bigger publications, this won't get you noticed, but for smaller ones, many editors review all new subscriptions as they come in.  In either case, receiving the newsletter from a site you want to be published on is a good idea for news and announcements and to see what content they promote the most heavily at a minimum.
Sharing – Make a point to share pieces from the sites you want to pitch to, and be sure to pair sharing with…
Tagging – When you're sharing from your target site, be sure to tag the site (along with the author whose work you're sharing).  Many small to mid-size sites, and even some large ones, will retweet or otherwise engage with your tagged shares.  If you only do one thing on this list, do this.
Pinning – This is just a form of sharing, but if the site you are targeting has a Pinterest account, considering re-pinning content from their boards to your own or group boards you are a part of.  If they have notifications turned on for re-pins, you may get a little recognition with the site that way too.
Website Mentions – I did a piece on my website called My Blog Can't Live Without You – 8 Sites I Visit Daily, that covered the blogging sites I visited daily.  Many were places I had been accepted on or was targeting in the future.  When I promoted the piece, I tagged the sites and many of them reached out to thank me and/or shared it with their followers.  Was this an overt piece of ass kissing? Yes.  Did I also write it to help other bloggers find great blogging resources? Yes.  Mentioning sites in your blog posts and then promoting/tagging is a great way to get noticed.  Whether it's a response to a post they ran, a call out of favorite posts with host sites listed, a round up list of certain types of posts with host sites named, a list of sites you want to be published on and why etc., everyone likes to have their name dropped.
Comments – This is huge.  With the exception of the mega sites, a humanoid at the site is typically going to see your comments, so comment thoughtfully and frequently.  Some sites even highlight gravatars of most recent or frequent commenters in the sidebar. (BlogHer is one example).
Participation – Some sites run educational webinars, podcasts/interviews where they solicit questions beforehand or open up live questions, social media link ups and challenges, as well as other online or in person activities and events that you can participate in.  If there is a way to participate that interests you, do it!
Reviews and Promotion – If the site has an associated book, course, event, or product of some kind that you partake of, consider leaving a review/rating where applicable or reviewing it on your site.
Pitch Suck up – When you submit pitches, reference some of the involvement you have had with the site.  Don't overdo it, but consider dropping one or two mentions along the lines of "I've really enjoyed your interview series as have some of my blogging peers I've shared it with, and I am looking forward to your XXX event".  This might seem too blatent, but as someone who accepts guest posts and interview pitches, if a pitch starts out with "I loved your last podcast interview with XXX and listen to it every week", I'm definitely reading the rest of that pitch, because they've showed me that they have some basic knowledge of what I do and follow the site.
Flattery might not get you everywhere, all of the time, but if you use it wisely, it might give you an edge with your writing submissions!
For more information about places to pitch, you can check out the sister article called: