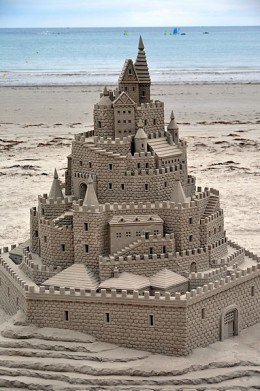 Developing an online presence is like building a sandcastle at the water's edge.
Last summer, our family took a trip to a Rhode Island beach. The kids wanted to build a moat to protect our blanket and towels from the rising tide. They set to work, mashing piles of wet sand on top of each other, working furiously to build it high enough so the waves wouldn't knock it down.
A wave would come, undo about 2/3 of the work, and then it would recede. There would be just enough time to add a bit more sand before the next onslaught. Each time, there was a little bit less damage to the moat, but it was an agonizing and slow process to build a sturdy moat. Eventually, after a lot of work, it withstood the water's pressure.
As writers, bloggers, and web developers, many of us who choose to make this work our living- feel like we are clawing with all our might just to get a small piece of the pie. At the end of the day you think, "Damn that was a lot of work!"
Forget about a day off
Think about your various platforms: Facebook, Twitter, Google +, Pinterest, etc. When you take a day or two off, what happens to your traffic statistics? For the beginner, they plummet. It takes a constant stream of reminders, updates, conversations, and shout outs to keep the momentum going.
After a day online, you may feel like you crawled in the mud along a concrete sidewalk to earn that $1.00 or 100 views. When your livelihood depends on the fickle wanderings of the impatient public, you may start to feel like you are on a roller coaster. You are. That's what you signed up for when you became a one person brand, and it's normal. It takes a while before you start seeing a return without an enormous amount of effort.
Maybe you've traveled around to other blogs, looking for people who have the secret to busy traffic and popular stats. What you find is discouraging.
"She gets how many views?"
I can't tell you the number of times I stumble on a website and think, "How the heck did they manage to get so many followers?" Busy designs, poor writing, and fluffy topics leave me scratching my head. Is your online presence always about great content? If it is, then why are people with terrible content so far ahead on their sandcastle?
I've come to realize, sometimes, it is luck.
A celebrity tweets their site. A TV show gives a shout out. A big name credible site back links the blogger. While the reasons for this might have to do with a brilliant post, sometimes it can just be about catching the right wave (or in our analogy, missing the wave that ruins your castle!).
Is there some secret I'm missing?
I've often thought that I'm missing some major piece of information- if I had it, all my online content would soar with hits. Unfortunately, there isn't a secret out there to be found. But there are reliable (albeit) slow principles that can help you build that moat. Eventually, you'll get there. You will.
Study marketing
Think about logo design on products you love. The Nike sign for example, is a great example of branding. A simple black wing-like shape, which people immediately identify. It doesn't matter if it changes color or size, or if it has the word NIKE under it. It stands alone. While this is much harder to do as a writer, keeping that in your head, your brand should be immediately recognizable. Are you the crochet chic? The emotional photographer? The political dude everyone loves to hate?
No matter how good or bad your days are, these ideas will pay off in the long run.
Clawing your way to an online presence | 8 slow and steady principles
1. Create content that evokes emotion from your reader
People want to be entertained or surprised or angered by what you're writing. If they aren't connecting to you or the topic, it just won't get shared. Think about the things that resonate with you online. Usually it's because it evoked an emotional response– even if it was a tutorial. "Hey, that was helpful!" or "OMG I can't believe she said that!" or "Wow. That's so inspiring!" 
I have a Pinterest board that has a lot of inspiring content about how to get your writing mojo working for you!
Follow Fabulous Blogging's board Getting Your Writing Mojo On on Pinterest.
2. Uncommonly reliable
The Internet is full of trends, fads, and viral moments. Everyone wants to go viral (which is hysterical since we essentially want to mimic killer viruses like smallpox or polio). But the truth is, there is a level of predictability that is necessary in order to sustain a long-term career on the Internet as a writer. It doesn't mean you shouldn't jump on new trends. It simply means that readers should know what they are getting when they follow you.
3. The Six Word Brand
I've read up on online branding and the importance of your social footprint. The research all seems to converge on one bottom-line. Choose six words to describe you. Those are your branding words. Examples like…
Psychology, Writing, Family, Women, Technology, Food
All my topics usually circle around these topics. Then you can add some describing words. Are you honest, funny, frugal, or inspirational? These words aren't as much your brand as they are your style. These words describe your voice. Dig deep until you've explored your niche.
I tell my clients to take each word and come up with approximately six more words for each one that are more specific. So with food for example, it might be:
Crockpot

meals
Vegetarian
Psychology of food
Busy mom recipes
Seafood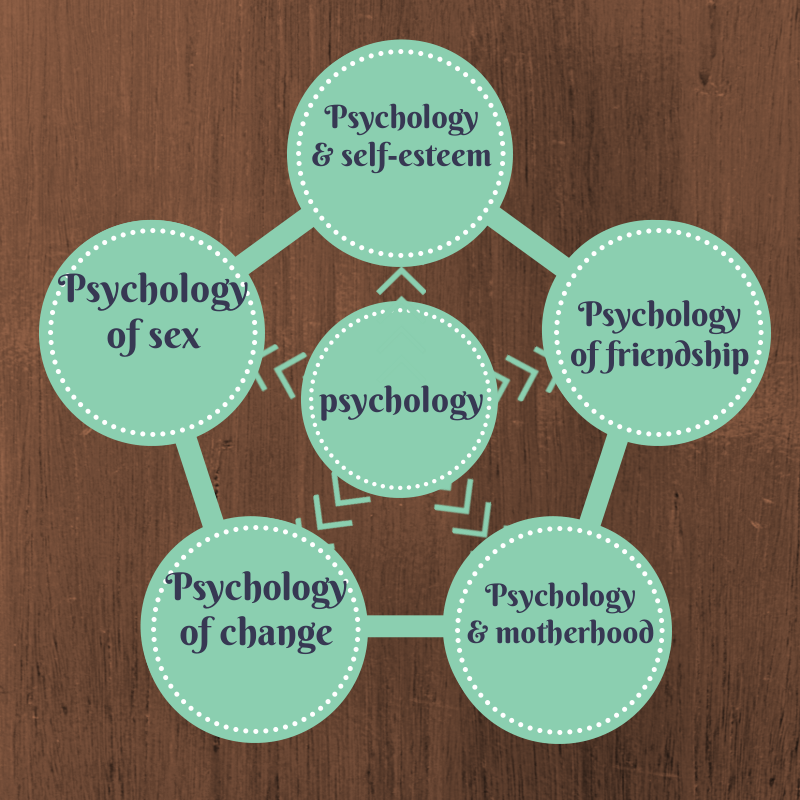 Branding starts by developing your voice and your topics- and then sticking to it with uncommon reliability.
4. Take Risks
Once in a while, do something that might make you slightly unpopular. Generating buzz means creating a bit of controversy. If a hate group rises up against you, at least you are standing for something worth talking about.
Ask yourself: What do you stand for?
The tagline on my blog was a quote by Benjamin Franklin.
"Either write something worth reading or do something worth writing."
I try to think like that when I write. For articles and dry online content, there is only so much you can do with the topics you are assigned (as a copywriter for example). However, if you are writing on a blog or website that is all your own, be known for something. Anything. Make it worth it. The thing is, it doesn't have to be about saving the world. It doesn't have to be some powerful endeavor. It could be about your kids, your marriage, your work, your passion for food, budgeting, spirituality. Make a line in the sand- and then cross it.
I'll give you an example. I write often about women's body issues on my blog. I've done it here and there, and one day- I found a picture that infuriated me. Knowing I might have some people who disagree, I wrote a post about it. My traffic quadrupled for several days. I pissed a lot of people off. Now that the hub-bub has died down, my traffic has resumed a more normal rhythm, though slightly higher than before. In that rant, I caught a few extra readers. That is what taking risks does.
5. Be Strategic
Isn't that helpful? It's true. Everything you do, think about the when, where, and why. Use social media with forethought. Plan your blog posts ahead of time if you can. Create hooks in your writing that keep people coming back. Design photos that people will repin on Pinterest, which link back to your work.
Maybe you have to use two separate photos depending on where you are sharing your content. That's okay.
Perhaps you need to save a piece of your content and use it as a mini-blog on Google plus.
Instead of just sharing a link on Twitter, start talking about your post with others in a conversational style.
Ask questions on social media and your blog. Get people talking.
6. Run with themes
I've said this before, but it is worth mentioning again. If you are writing about food, then write the back-end and personal analysis on social media. Link them together. The same goes for copywriting. If you have to do research on a topic you are unfamiliar with, double up and write a article that has to do with the same content. You'll save yourself time, not to mention- expand your repertoire of topical content.
Think about how your content can be repurposed on social media. If you love to blog about recipes, create a Pinterest board dedicated to using leftover chicken. It's better for your viewer to have specific boards, then to go hunting and pecking through a generic FOOD board. As a side note, Pinterest can be a great place to flesh out your brand by creating boards centered on your topics. Then you can work to write content to fill them, as well as find other bloggers in your niche to collaborate with. Remember, they are not your competition.
7. Study other bloggers further along than you
Find someone you respect, who is at the next level. Don't go for someone who is the Madonna on the online writing world. Just a rung up. Study what they do, and how they do it. Connect with them and ask for help or the opportunity to be "mentored". Learn their strategies and implement them with your own voice and style. Resist the urge to copycat, since you'll never live up to the real thing. Besides, there is only one you and that is worth protecting!
8. Use tools to help you
If you are planning to make a go of this blogging thing, you are going to need help. Buffer, Hootsuite, graphic editors — these are all must have tools that will help you get your content out at the right time, and looking the way it needs to.
If you need help finding great content: StumbleUpon
If you need to think of things to say on Twitter: Buy a book in your niche and highlight memorable phrases
If you need to reach your readers directly: MailChimp
Have I exhausted you with this post? I'm sorry! The truth is that blogging (for a hobby or a living) is not an easy task. Sure, anyone can slap up a blog in a few minutes, but in order to grow it into a thriving and dynamic website with a large readership, you are going to have to roll up your sleeves and get to work!