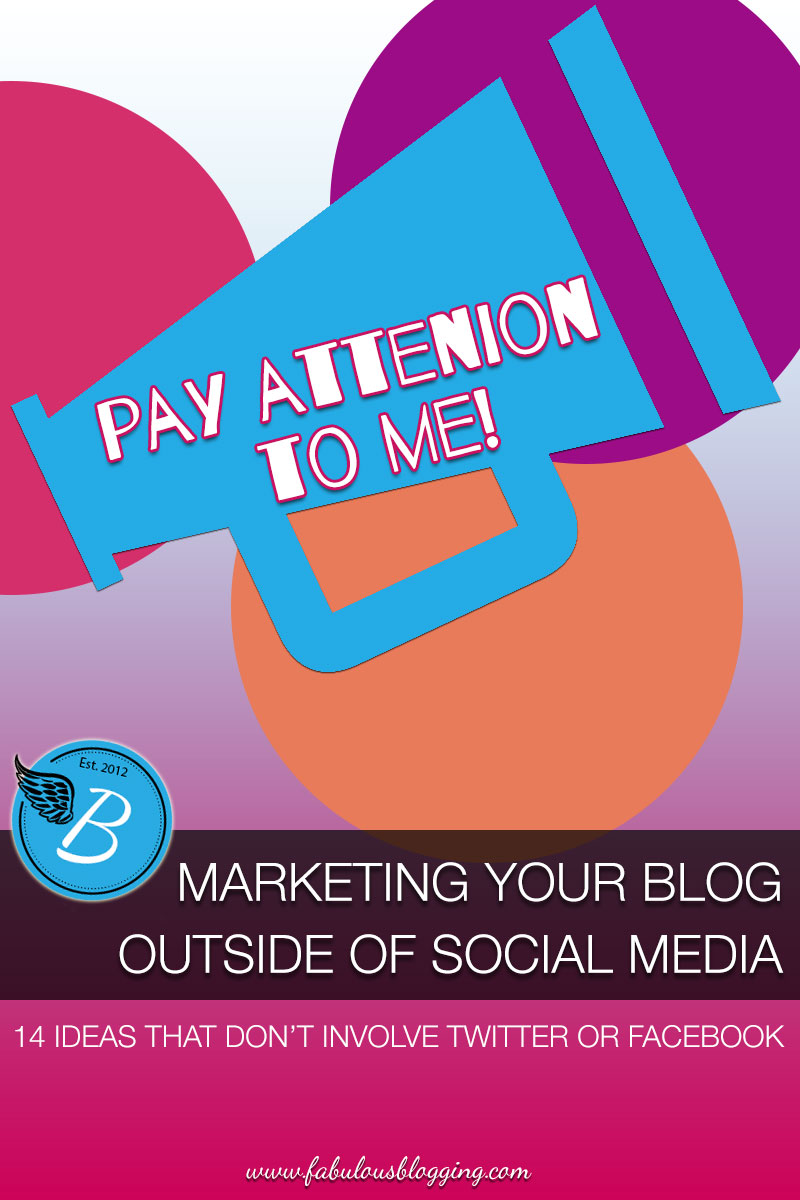 90% of blogging is marketing.
Once you've written that post, it's time to get it out there. We all are familiar with the traditional routes of spreading our work through the web– Twitter, Facebook, Pinterest, Google +. But your content is only as viral as your audience, and sometimes– you need to break out of your circle of readers and start swimming in a new pool. Here are some fresh ideas for marketing a blog.
1. EMAIL SIGNATURE
Put your blog as a link underneath your name. It's even better if you can add a quirky or memorable tagline. Anyone who gets an email from you will only need to click once.
2. BLOG CONFERENCES
With BlogHer 2014 on the horizon, thousands of bloggers are getting their business cards ready to spread the word and make new connections. You don't have to go to BlogHer. There are a lot of online webinars and conferences that will put you in touch with other bloggers as well.
3. OTHER TOPIC-SPECIFIC CONFERENCES
Let's say you are a Mom blogger. Why not go to a parenting conference? There will be a lot of people in your demographic. The same goes for food, photography, etc.
4. ONLINE FORUMS
If you are a writer, join a writing forum- but NOT to publicize your blog. Interact with the community and put your blog link right in your signature. People will get to know you, and eventually- curiosity will (hopefully) get the best of them. You can join a forum on almost any topic; divorce, homeschooling, adoption, sex, writing, photography, parenting, art, etc.
5. COLD CALLS/EMAILS
This sales term refers to people who have to drum up business by picking up the phone and pitching their product or service to a complete stranger. If you have a post that is especially good, reach out by email to blogs with similar themes/topics to see if you can get a backlink.
6. CAR DECALS
If you're too nervous about going for the big car decal, why not get a bumper sticker or a clear decal like colleges offer? It's free advertising (but make it catchy!). If you go with a decal, be sure to check your local tax laws. Here in Connecticut, a decal on a car is subject to tax.
7. BUSINESS CARDS
These aren't only helpful for other bloggers. You can give them out to anyone– your banker, mailman, or if you are brave enough; your boss! If you specialize in something else (besides writing about your life), add it to the business card so you feel more comfortable handing it out.
8. LOCAL EXPOS
Our town holds a business expo every year. You can get a table and have some swag to hand out, plus information about your blog, newsletter, etc.
9. CLASSES/WORKSHOPS
Sometimes blogging connections happen indirectly. I gained several new blog followers after attending a writing class for a novel I was working on.
10. COMMUNITY ADVERTISING
Hit up your local businesses for some opportunities to either advertise or sponsor posts for their business in exchange for some counter space by the register. I leave business cards at the local printing place for anyone looking for web design services.
11. CALL IT A WEBSITE
I know that sounds silly, but if you tell non-bloggers, "I have a blog"- they may glaze over the comment and chalk it up to some digital graffiti. But if you say, "I have a website"– the person will be able to understand what you mean. It means you have an online presence and they are more likely to check it out. It also sounds more legitimate.
12. GET ANOTHER DOMAIN
If you had a website name like http://igotanewblogandhadnoideawhatiwasdoing.com, you're going to need a better name. Non-bloggers and other people will NEVER remember it. Get another URL– a shorter and easier to remember one. That one you can give out to strangers at parties. It's more likely to be remembered. Just forward it to your website so people will get to the right place.
13. PITCH, PITCH, PITCH
Find other online publishing opportunities and submit pitches. Eventually, you'll get a bite. As soon as you do, you've tapped into a whole new market. Places like BlogHer, Huff Post, and Playground Dads have a big audience. You can also look on sites like oDesk for copywriters and guest bloggers. Just make sure you can retain authorship when you accept a job.
14. DON'T WASTE YOUR TIME
Chasing dead ends will drain you of energy. You need to invest where there is a payback in terms of long-term followers. You want new and "real" readers, not people that are simply coming out of obligation because of a link up or a comment. Those are great ways to build readership, but oftentimes– those are the only avenues a blogger takes. There is an entire world of non-blogging people that may be interested in what you have to say! This week, try to make one real-life connection with someone. How much more satisfying to get a new loyal follower than 5 half-assed ones?
I'd love to chat with you on social media about what you are doing to market your blog. Please use the hashtag #marketyourblog and let's talk!
Find more posts at Fabulous blogging about gaining…