Search Engine Optimization. It sounds so menacing and difficult, but there are some beginner tips that can make a huge difference on your blog. Don't be intimidated by the concept of SEO or spend a lot of time trying to figure out the Google Keywords tool. Even though there is an entire market of tech geeks that study SEO, a few general principles can make a marked difference in your organic search engine traffic.
Here's the bottom line of SEO…
You want search engines to find you. Take a minute and think about the last time you searched for something online. What did you do?
The last few things I googled were:
Tilapia

marinade recipes
How to remove malware from WordPress
Mexican restaurants in New Haven
When people google something, it's usually specific right? How many times have you googled "Humor writings?" It's more likely you typed in something like, "Funny Quotes about Dieting." Use your own Google behavior to craft posts that will answer search queries.
Seo

Rule Number 1: Write something specific.
As a lifestyle blogger, this could be tricky. But in most cases, lifestyle bloggers get their traffic from social media and word of mouth. Nonetheless, if you can hone in your topic– do it. Be as narrow as possible.
If you start to notice how you query things on Google, you'll start writing blog titles that answer those queries. You want to use long-tail keywords. In other words, don't just create a title that says, "Tilapia Recipe." That's too broad. Choose something like, "Best Grilled Spiced Tilapia Recipe." Chances are people searching for tilapia recipes might be using words like best, grilled, or spiced in their query, and you'll beat out the competition.
Seo

Rule Number 2: Use a plugin like

Seo

by Yoast to help keep you on track.
The plugin works well IF you understand focus keywords. Here's a screenshot of the plugin.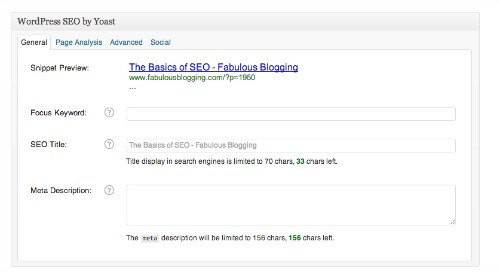 First you

pick a focus keyword. We'll use Grilled Tilapia Recipe as our keyword. The plugin will tell you how optimized your content is

…

for that keyword. If you pick a dumb keyword, it doesn't matter if your plugin gives you a

green light

, people won't find it.
Before you write your post, do a Google search for Grilled Tilapia Recipes. Then do one for Grilled Tilapia Recipe. Check out the top five results. You are going to want to do something better than what's there. If the top results include content-generated material like yahoo answers, a forum, or even those cheesy

ehow

 articles, you have a shot. Go for it!
Once you have a focus keyword, you can add an SEO title that will show up in Google. If

your

blog title says, "Best Damn Grilled Tilapia Recipe You've Ever Tasted," you can choose an SEO title that's a bit more engine friendly (like the example above: Best Grilled Spiced Tilapia Recipe).
Add a meta description. This is the same as an excerpt. In fact, you can copy and paste your excerpt into the meta description if you wish. Use your focus keyword. Be clear. Be concise. Here's a post about writing excerpts.
There are LOTS of other things SEO by Yoast does too. It allows you to link up a G+ page, provide author highlighting, fill out

meta descriptions

(these are summaries about your website in general– use keywords), as well as adding an author link to your RSS so search engines recognize YOU were the first author of the content (in the case of scrappers).
Seo

Rule Number 3: Your content should be good.

Can you aim for 1000 words or more? How many pictures do you have? Any video? All of these things help keep the reader on your page longer. When you upload your pictures, write titles on the images that are specific. Use keywords. Add captions.

What about using your headings? Up at the top where the heading formatting is, Google looks for keywords in headings. You'll want to think about that too.
Seo

Rule Number 4: Make sure your site is healthy.

You can have all the great content in the world, but if your site isn't healthy, Google won't like you. SO what constitutes a healthy site?
Have a 

sitemap

 so Google can find your pages easily.
Check your loading time. If your pages load too slowly, that's not good.
Have you established Google authorship? Providing a small thumbnail of yourself underneath search results helps you to stand out. It also helps if you have content authority on other sites as well.
Any duplicate content? Make sure your site isn't duplicating itself, or anywhere else on the web.
Sign up for Google Webmaster tools so you can monitor how many 404 errors you've gotten, or any malware that may be on your site.
Make sure your site is secure. If there is malware of any kind– you could quickly get blacklisted from Google. Using Sucuri or other monitoring services (along with a good security plugin) is an absolute must.
Build quality backlinks. Whenever you can (and in an

organic non

–

spammy

way), add links to your content on social media. If you can guest post on someone else's blog, this also gives you a backlink to your site. And, if you can get a backlink on a credible site with a good page rank, even better! Your

google

webmaster tools will show you all the backlinks you have. The single best way to build backlinks is to write content that people want to share.
Building authority on the Internet takes time. None of this is an overnight fix, but if you start using these techniques, you will find your traffic increase. Try them out and let me know in the comments if you notice a difference after a few weeks!